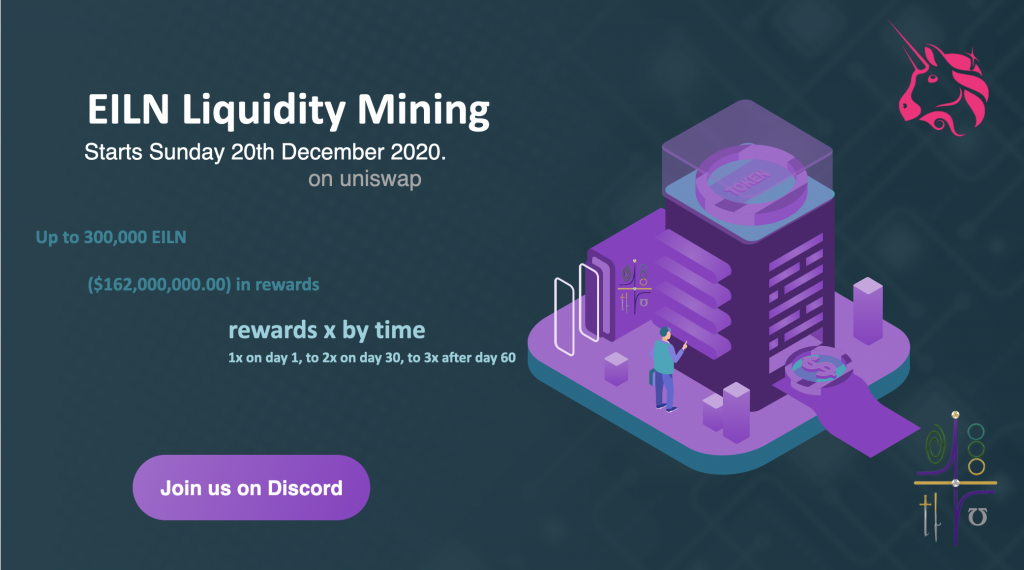 Details for the EILN liquidity mining program. Everything you need to know, and then some.
Following the many successful examples of Liquidity Mining programs set by other projects, we are excited to present the EILN Liquidity Mining Program!
We will reward Liquidity Providers of the EILN-ETH and EILN-USDT pairs on Uniswap V2.
Swap your coins/tokens for EILN in atomic DEX and add liquidity to your pool of choice. Once added you will be earning EILN awards till the end of the award phase or till you remove your liquidity. This awards are calculated per sec based on the % of the pool you own. Starts Sunday the 20th December
At random intervals a number of liquidity suppliers will be chosen for a 100 EILN award.
Important: If you are not experienced with Uniswap or providing liquidity, we'd like to remind you that you are in no way obliged to do so. If this concept is new to you and you would like to learn more about how this works, this blog is a good place to start. As with all things crypto, be sure to completely understand what you are doing before you start, as it is not without risks.
Learn more
If you want to know more about what we do, read our whitepaper, visit our website, or join the discussion on the Discord.